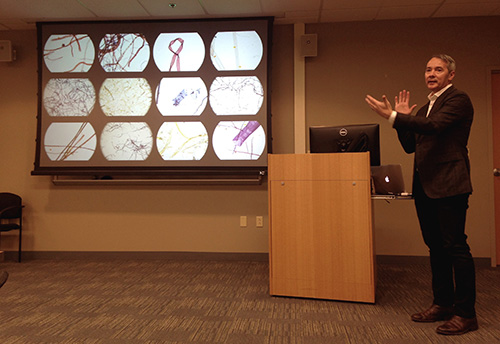 On Friday January 6, Paul Messier spoke to a large group at 25 Science Park about the challenge to convey materiality graphically and how paper choice communicates meaning. It was a fascinating talk and a lively discussion.
Paul has a
very
impressive background. He is the head of the Lens Media Lab at the Yale Institute for the Preservation of Cultural Heritage. 
Paul has an M.A. in Art Conservation from SUNY Buffalo, a C.A.S. in Conservation of Works of Art on Paper from SUNY Buffalo and an A.B. in Art History from Vassar College. 
Prior to his time at Yale, Paul worked for over 20 years to establish and develop one of the world's leading private conservation practices in photographic conservation.
Additionally, he has served as an advisor and consultant for numerous collectors, dealers and institutional collections including the Museum of Modern Art, the Guggenheim Museum, the Cleveland Museum of Art, the New York Public Library, Harvard University and the Library of Congress.