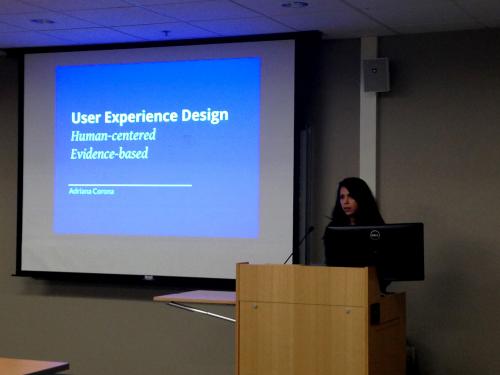 Adriana Corona presented on Wednesday August 23rd about UX as Evidence-Based, Human Centered Design. To design for human experiences, you need to fall in love with solving a human problem. Designing a solution is not the hard part; the hard part is staying emotionally detached from your solution. Adriana discussed how she accomplishes this: by identifying (and falling in love with solving) a problem, iterating on several solutions, and letting the evidence steer your design decisions toward an ultimate goal.
Adriana is the Senior Experience Designer in User Experience & Digital Strategy in ITS Campus Community Technologies. She received her Master of Science in Human-Technology Interaction at the Eindhoven University of Technology in the Netherlands. Prior to that she worked as a product management consultant for a data science firm and helped them streamline their web product development process. Adriana has an undergraduate degree in Computer Science from Yale University.
You can see some of the work that Adriana does at uxdigitalstrategy.yale.edu.